High-profile Taiwan celebrity couple Vic Zhou and Barbie Hsu has broken up, according to local media reports.
Hsu confirmed the split via her assistant during an activity in Hong Kong on Monday. Zhou's agent also confirmed the news. Both declined to make further comments.
Barbie Hsu's mother told the media the couple parted amicably.
Barbie Hsu, 31, and Vic Zhou, 26, gained wide popularity through the 2001 hit television drama "Meteor Garden." They collaborated in another series, "Mars," in 2004, and officially began dating in July 2005.
_______________________________________________________________________-
Vic Zhou and Barbie Hsu's two and a half years of (sister, brother) love relationship have ended.
Yesterday, Zai Zai who was in Taiyuan, capital city of Shanxi province, China announced the seperation with Barbie.
They were unable to maintain as a love couple but they can become life-long friends of close family ties.
At the press reception, Zai Zai was asked about the news on the break-up;
He said: 'It's true, we have broken up, the feeling with Da S is one from being her boyfriend to that of family member. The feeling of being a family member will be everlasting, this is much better.'
He was reluctant to disclose the reasons for the seperation but he feels that the two and half years with Da S were good times.
Rumours spread that the reasons for the breaking up were publicity for the film and that of
the female being stronger than the male and even 'forced marriage'?
Zai Zai rebutt that it's only hearsay, it's not the facts and that he did not wish to comment more.
That the cause was forced marriages;
The 32 year old Barbie have been reported to be impatient, wanting to get married and have children,
the reason for her break-up with her former boyfriend Lan zheng Long 4 years ago was also due to the
forced marriage which led to the breakdown of the relationship.
Zai Zai plans in his early life was to be married at the age of 25 and become a dad at age 30.
Never to expect that after his 26th birthday, he is still unwilling to get married, that he had
changed his intentions and to maintain the relationship first.
Even if it was Barbie who initiate the seperation, it is understandable.
There were also reports that Barbie's mother is not too satisfied with this prospective son-inlaw.
As a mother, it is only understandable that her own daughter gets married to a good husband.
Yesterday, Mrs. Hsu and Barbie's spokesman responded to the reporters questions.
She first denied that the 'forced marriage' was the cause of the seperation.
'Da S and Zai Zai are concentrating on their careers that's why they decided to seperate.'
She added that: 'Whether to get married is not a problem, the most important thing is that the
both of them are too busy, they feel that they want to make their careers as the first priority.
That's why they agreed on the seperation.'
Isn't it a waste?
'Fate is like that, in the future everyone are still friends.
Friends treat each other sincerely and in the future they will still be able to encourage one another.
Da S do not have the wisdom and the ability to get married.'
Mrs. Hsu confirmed the break-up between Da S and Zai Zai whereas Da S was interviewed on the website regarding the seperation but she was evasive.
The Internet host states that Mrs. Hsu have admitted to their seperation.
Barbie was calm and replied: 'Hsu Mama can say whatever she wants, I am in no position to
prevent her. She is my mother, she can speak on my behalf.
Last night after having returned to Taiwan, with regards to the seperation;
Da S expressed that all along she had never insisted and that she have sufficient courage to
face the future.
'To engage in a marraige relationship, including teaching the children, having a good relationship
with the parents-inlaw, involves everyone's cooperation. I do not have the wisdom nor the ability
to engage in such matters.
Actually, was the announcement on the seperation planned beforehand?
In actual fact in mid December last year, Zai Zai had already made known the 'seperation notice'.
Outsiders misunderstood that for a marriage announcement.
Last year on December 9, when Zai Zai was in Shanghai to attend the prize presentation ceremony,
he media asked when the marraige will take place?
Zai Zai replied that: 'There will be a breakthrough in our relationship next year.'
He did not elaborate further what he meant by breakthrough.
Now we understand the real meaning of his statement. The breakthrough is their decision to seperate.
Reports state that the date for their break-up was on the 4th of January.
Those who were not optimistic about this relationship disclosed that Zai Zai's position in the
Hsu's household was very low. Often he will be ordered about by the family.
It's been reported that in 2006 when both of them wanted to get married, Mrs Hsu turned around
and told Zai Zai that he had to be married into their family which really hurt him.
The age difference of 5 years (example of a brother attaching to an elder sister) whereby the
female's personality is stronger than the male, could also be a factor for the seperation.
Those who worked with Zai Zai revealed:
Recently Zai Zai have been working really hard, and was always discussing work matters with the
staff. He's very different from last time where he used to be very shy and did not have any
views on matters. Seems like he is using work to treat the wounds and to express that he is
not a 'small man'.
Vanness Wu
Vanness Wu carrying an illness, appeared in an event for Nike yesterday.
When informed of the break-up between good friend Zai Zai and Barbie:
He was surprised and exclaimed that he didn't know; 'Because I've been very busy with
work recently, didn't have time to contact others.'
Will you look up Zai Zai and comfort him when you get back to Taiwan?
'I will look up friends for chats, as a friend, definitely I will do what it's need.
To comfort him? Everyone's condition is different.'
Will introduce a girl that you know?
'That fast? Very cruel ah..! Let me understand the matter first, see if it's true then
see how it goes.'
He added that he will be texting Ken Zhu to wish him 'A Happy Birthday'.
________________________________________________________________________----
Vanness Wu and Bernice Liu attended apm's Nike function yesterday. Earlier, Vanness specially directed the MV for his new song "She's Not Sorry". He invited Bernice to take part in his MV. On the day of filming, it happened to be Bernice's birthday. Vanness praised Bernice for being very professional. Vanness directed while at the same time teaching do the desired dance moves for the MV.
Does not know about Vic and Barbie's split
Through his manager, Vic has confirmed his split with Barbie. As a good friend of Vic's, Vanness expressed that he did not know about this, since they haven't been in touch for the past few days. When he returns to Taiwan, he will get in touch with Vic. When asked if he will go comfort them, he expressed that he will do what a friend should do. Then will he introduce girls to Vic? Vanness feels that everyone's conditions are different, and also expressed that the press is very cruel to ask him to introduce girls to Vic so soon! Vanness doesn't know to much about their split, and will find out soon.
Bernice expresses she has given up her birthday to Nike, and also expressed that she was at Nike functions for the last 3 years on Valentine's Days as well. She praised Vanness for being very professional. Shee believes that a person who knows how to dance will have good body language, easily expressing themselves. Does Moses Chan also know how to dance? Bernice says that she doesn't know
_____________________________________________________________________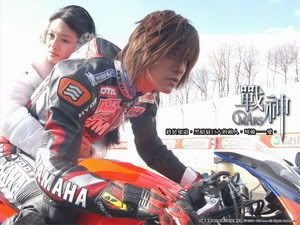 Life after being onequarter of the F4 boyband continues its heady spin for Vic Chou, with his film debut and a new solo album.
Taiwanese pop idol Vic Chou dreams of becoming a grandfather. "My grandfather died when I was in primary school. We had a good relationship. I want to be a grandfather so that I can have a long and good relationship with my grandchildren," he explains.
Which is why he once said that he wanted to be married by the age of 25.
"Before I turned 18, I thought that being married by 25 was a matter of course," he says.
Nowadays, however, the 26-year-old Chou, or Zaizai as he is known to his fans, is too busy with his career to think about an early marriage.
But girls can forget about making a play for him. He has been dating Taiwanese actress-TV host Barbie Hsu, 31, for about three years.
Besides releasing his third solo album, I'm Not F4, last October, the member of the wildly popular Taiwanese boyband F4 is making his movie debut in the supernatural romance, Linger.
In the film, he plays Tung, an undergraduate who dies in a road accident but is unable to leave the earthly realm as he has unresolved emotional issues.
Award-winning Chinese actress Li Bingbing, 32, plays his girlfriend Gia while Hong Kong's critically acclaimed Johnnie To directed the film.
Throughout the recent press conference in Singapore and in the one-on-one interview later, he had a friendly smile on his face and a lilt in his voice. He came across as earnest, somewhat old-fashioned, and politically correct at times.
You might conclude from the opening anecdote and his choice of cinematic material that Chou is a sentimental romantic at heart.
But he dispels that with very pragmatic reasoning.
"My goal was to build a good foundation in TV before moving on to movies," says the singer, who shot to fame in 2001 with his fellow bandmates when they starred in the TV series Meteor Garden, which caused an Asian pop culture quake.
Two years ago, having decided that he was ready to make the jump to the big screen, he was approached by To.
"My ultimate goal is to act well and let people see my good work. I first started out on television – it's not a question of whether film or TV is better. If I had started out doing movies, I would have wanted to prepare myself for TV work as well."
Asked which aspect of his acting he thinks needs work, he pauses before answering.
"I want to improve my language ability as my Cantonese lines in Linger were dubbed over. It would be good if my linguistic abilities were stronger, be it Cantonese or English."
Not that he is thinking about making a move to Hollywood, though.
"I don't have such a long-term goal," he says. "Besides, there are a lot of good films and scripts right here in Asia. Maybe the budgets are smaller but something like Infernal Affairs was made here and then picked up by Hollywood.
"But I just want to do my job well first."
Chou has not done too shabbily in the career department since his first hit with the Taiwanese TV idol series Meteor Garden.
In the adaptation of the manga Hana Yori Dango (Boys over Flowers), he played the sensitive Hua Ze Lei – and female fans everywhere swooned.
The other three "flowers" were Jerry Yan, Vanness Wu and Ken Chu; together, they make up the boyband F4. At the height of their popularity in 2002 and 2003, it seemed that the whole of Asia was caught in the grip of F4 mania.
The band paved the way for the current crop of Taiwanese boybands including Fahrenheit and 5566.
Chou's latest album seems to be a repudiation of his boyband status. The foursome has just launched their first album, Waiting for You, in four years.
Due to copyright issues, the group is now known as JVKV, after the first initial of each of the members' names. The copyright to the name F4 is owned by the Japanese publisher of the manga.
What is different about Vic Chou on his solo albums compared to Vic Chou on the F4 albums?
"When we come together as F4, we have to think about what fans want from F4. We have to come at it from four different angles because there are four of us and, in the end, we need to have a common goal.
"On my solo albums, I can just think about what fans want from me."
In the years between the F4 releases, Yan, Wu and Chu were busy with their own projects as well. But Chou dismisses talk of the group breaking up.
"We have never thought about splitting up. It's not possible for us to separate ourselves from F4 and it will be with us for life," he says emphatically.
He looks to Hong Kong band The Wynners as a model. "They have been together 20, 30 years. Some of them are no longer even in the entertainment scene but when someone makes the call, they still get together to perform.
"This is for life," he emphasises.
What about the comparisons to newer boybands such as the red-hot Fahrenheit?
He is quick to point out: "We have never badmouthed them. It's the media playing things up. We can't stop that so we just have to constantly re-but it."
He adds magnanimously: "It doesn't mean that fans of ours cannot be fans of Fahrenheit. Good things should be supported by all.
"In fact, I'm happy if they do well and improve, though that means we would need to do better as well."
That is a lot riding on those slim shoulders. But perhaps he is now drawing strength from his long-term relationship with Hsu.
They were co-stars on Meteor Garden but began dating only after crossing paths on another manga-based series Mars (2004), which tackled issues such as mental illness and suicide.
Chou's parents divorced when he was young but that does not seem to have coloured his views about marriage.
The earnest young man admits: "It is very difficult to keep a family and marriage together. It needs time and effort."
At this point in time, "work is priority and I can't convince myself to talk about marriage now". He adds that men should build a career first. "I feel that I can't just go and ask for someone's hand in marriage if I have not done so".
How does Hsu feel about that?
"Our thinking is quite similar. We should concentrate on our careers while we're young," she says.
Looks like his dreams of grand-fatherhood will have to wait a while longer. – The Straits Times, Singapore / Asia News Network
____________________________my comment________________________________
omg!!!! i cant believe this.... 1st of all, when i first heard bout the blossoming dazai love affair...im kinda scared because of the age gap and im afraid if they will break up it might ruin the frienship that they develop....
now..... my fear comes to reality they really broke up.... all i pray is taht they continue to be good friends after the devastating break up.... it really makes me cry!!!